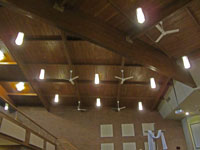 The Good Shepherd Church in Loveland has been in operation for 30 years.   Pastor Rob Strouse came  in 2009 and decided to modernize a number of areas.  One that immediately came to mind was improving the lighting to create a more vibrant worship environment and save energy.   There were many old fluorescent fixtures that had never been updated.
The first project was the updating of the lights in the offices, halls and classrooms. been updated.
The second and more extensive project was the retrofit of the lighting in the auditorium where services and events are held.
Learn more about the results this church achieved with this lighting upgrade by downloading this success story.
https://collins-control.com/wp-content/uploads/2017/03/Collins-Control-Logo-2.0.png
0
0
https://collins-control.com/wp-content/uploads/2017/03/Collins-Control-Logo-2.0.png
2012-07-25 20:44:06
2012-11-14 22:29:55
Loveland Church Improves Worship Experience by Modernizing its Lighting