A generator with a solar system brings electric service to off-grid living.
Gary Packard is one of Collins Control & Electric's off grid customers. He has a 4.2 KW/hr solar system with a bank of batteries to power his home.  A Kohler 17RES backup generator charges the batteries when the weather is not sufficiently sunny.  On normal days, the solar power is enough for two days of use, but on overcast days in December, January, and February the generator is on more frequently. This system makes the Packard household energy independent.
Generators usually are exercised automatically about once per week to ensure that everything is working. Collins Control & Electric electricians were at Gary's place to perform periodic maintenance. This usually means changing the oil, doing a tune-up and running a battery of tests. The technician did several tests and just on the last test, the generator would not start.  Isn't that the way it goes when you are just ready to call it a day? That is when the problem became quite difficult. There were a couple of days of detective work and careful analysis to determine the cause of the problem.  Finally Mike Haddorff, the president of Collins Control & Electric, came up to "stay until the bitter end" and determine the root cause. It took about another 8 hours to find the issue and get the generator working perfectly again.  If you have ever dealt with electrical systems, you know that system problems can sometimes be quite subtle to figure out. As you can imagine, Collins Control & Electric put in much more time than normal to solve  this issue. When it came time to bill for the job, the company quality statement guided Mike:
"To make life better for everyone we touch by doing what is morally and ethically correct and by treating others the way we would like to be treated."
This helped Mike decide on a fair price for the job rather than a much higher figure based on time and materials. Gary said: "I feel good about it.  Yes, I think he was doing everything he could to keep his employees going, keep the lights on in the office and keep me as a customer.  He did everything in his power to make things right." "I recommended him even before this business. Many people who do photovoltaic installations do not want to work on generators and vice versa. Mike has a great business plan in that he wants to embrace both of them. For people like me, this is the way to go because the generator backs up our photovoltaic system and we want to make a single call when there is a problem with either of them."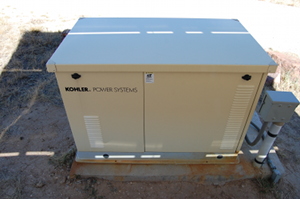 If someone asked Gary what Mike does, he would say: "He walks on water. He is kind of like a bulldog.  When he got a hold of it, he was not going to turn loose until he was convinced that the generator was a total loss."
Collins Control & Electric can expertly size and install a complete off-grid solar power system with generator, solar panels, battery bank and controls.
https://collins-control.com/wp-content/uploads/2017/03/Collins-Control-Logo-2.0.png
0
0
https://collins-control.com/wp-content/uploads/2017/03/Collins-Control-Logo-2.0.png
2014-11-14 00:18:47
2017-04-06 15:37:22
Off-Grid Generator Rides Again